"You can't build a reputation on what you are going to do." Henry Ford
At 3 Birds, we have been helping automobile dealers to understand the importance of online reviews and the significant role they play in influencing consumer behavior since 2010. In the early days, we encountered our fair share of dealers who thought that companies that offered reputation management tools and services were supposed to just "fix the problem" and often the expectation was that the "problem" should be fixed fast.
Reputation is made in the dealership, not online. As Henry Ford sagely observed when the automotive industry was in its infancy, reputation is based on historical performance, not future promises. Reputation management begins with the processes in place in the store and, at the most fundamental level, how customers are treated in every department in the dealership.
Today, four years later, as we continue to help dealers to understand and protect the reputation of their business online, we can't help but feel that we are entering a bit of a reputation management renaissance. We see that many automobile dealers have reached a level of acceptance that online review sites are a fact of life and, given that most consumers conduct online research before purchasing or servicing a vehicle and that research often includes online review sites, what people have written about their business on these sites has an impact on their bottom line. More and more dealers understand and accept that, just as an online reputation "problem" is not created overnight, it is also not something that can be fixed quickly by external means.Underlying process issues must be addressed, employees may need to be retrained or removed. Online reputation is also not something to be gamed. It is something that must be tended to and nurtured daily and in every customer interaction.
Automobile dealers don't need a miracle cure for online reputation. In fact, if a solution promises a result that sound too good to be true, it probably is. As much as we all love quick fixes, slow and steady really does win the race, or since this is more of a long haul, it would probably be more accurate to call it a marathon. What automobile dealers really need in this marathon is a good reputation management partner.
A good reputation management partner will help their automobile dealership clients to:
·Stay on top of the flow of reviews on the many online review sites where customers share their experiences with businesses with other consumers. Monitoring a dozen or more online review sites daily while still performing the core business activities of an automobile dealership is incredibly challenging. A good partner will do the heavy lifting of monitoring the sites for new reviews and serve up the information, perhaps even a suggested response, to the client to free up the clients time of the business of their business.
·Look past the criticism in consumer reviews, resist the urge to take perceived criticism personally and find potential business intelligence in it instead.
·Stay apprised of changes on online review site policies and relationships and in the digital landscape, in general, as well as the potential implications to the business, and refine strategies accordingly.
·Develop systems and strategies for gauging customer satisfaction, evaluating whether processes are taking hold and working as intended to improve customer experience from a consumer's perspective, working with dissatisfied customers to resolve issues and encouraging customers to share their dealership experience with other by writing online reviews
·Create a culture where offering excellent consumer experience and a positive online reputation are unique value propositions that distinguish the dealership from competitors in the marketplace.
The reputation renaissance that we have been noticing is refreshing. Dealers are settling down to do the in-store work that must be done to earn a sterling reputation and looking for those partners that can help them win the marathon. One part of the marathon is paying attention to not just your own dealership's online reputation, but also looking at the competitive brand dealerships right in your own backyard. We call that Neighborhood Watch. Neighborhood Watch allows automobile dealerships to compare their reputation on online review sites to competitive dealerships in their DMA or PMA and see exactly how they stack up. If you're planning to attend the Digital Dealer Conference and Exposition in Atlantic City, New Jersey next week and would like to learn more,
come see us
in Booth #705, or you can always call (415-235-3902) or email me
kristen@3birdsmarketing.com
.
Articles
Articles
Articles

Drive traffic and conversions with automated messaging backed by the type of informative content consumers are looking for online.
Getting the most bang for your revenue buck doesn't have to be complicated. Drive web, phone, and foot traffic related to service Drive service traffic to provide customers with timely information relevant to where they are in the vehicle...
Read This Article>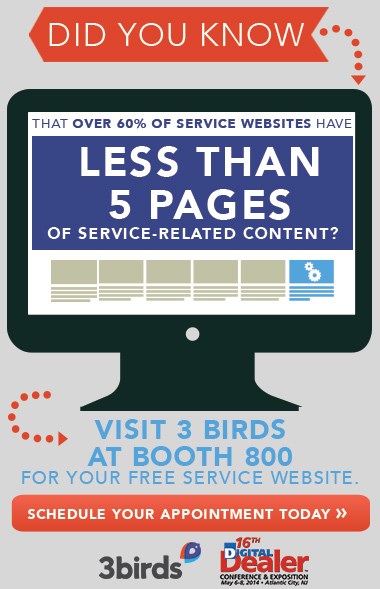 Targeted MultiTouch Marketing Package Influences 44 Sold Vehicles Overall
The search for a cost-effective way to message multiple brands at once and still maximize ROI A 5 rooftop multi-brand dealership located in Durham, NC that offers highline, import and domestic brands and also maintains an extensive inventory of...
Read This Article>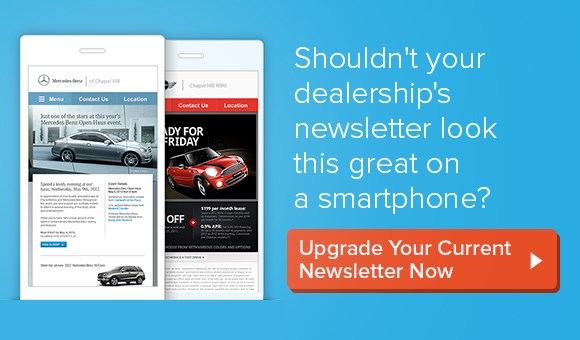 Generate demand, not just leads.
At first glance, increasing monthly revenue is the end result of a simple equation. More leads = more customers in-store = more cars sold = more revenue overall. Something like this, a model many of us are familiar with. It's simple,...
Read This Article>

As recent snafus show, monitoring your social media channels is a full-time job
They say hindsight is 20/20—and when social media disasters happen to businesses, it's tempting to look back at which decisions could have been made differently to avoid them. When online engagement backfires, though, the decisions you...
Read This Article>
Subscribe Now!
Sign up today to receive your monthly newsletter.

Geoff speaks out about the Fixed Ops Retention Suite and what he loves about being new to Chapel Hill.
Geoff is one of the newer members of the 3 Birds team, but lately he's had another new arrival on his mind. On February 1st, he and his wife welcomed their firstborn into the world. In between his new parenting duties, Geoff serves as our head of...
Read This Article>

An overview of two major social media updates
Miss out on any of the recent updates that could have big repercussions for your digital marketing? Don't worry—we've got you covered. Yahoo Local joins with Yelp for enhanced user experience Our take:...
Read This Article>