Get real-time wisdom about your online presence with the 3 Birds Assessment Product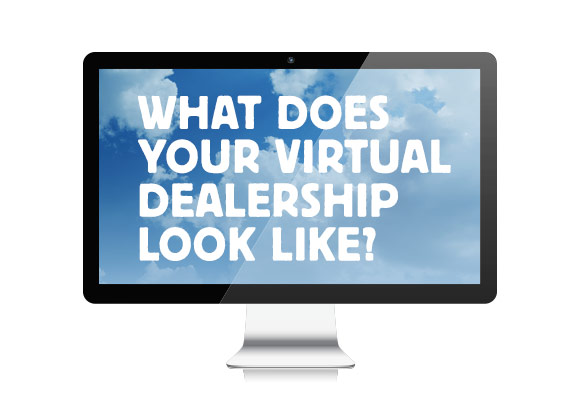 It wasn't so long ago that the majority of the car-buying process took place at the dealership itself. From research to comparison to test drive to financing, the process played out much the same way for each customer—and a dealership with a knowledgeable, professional team could focus its energies on a single front with the expectations of considerable returns.
For better or worse, those days are gone.
If you've accepted the importance of digital marketing in your dealership strategy, but haven't gone beyond your dealership website, you haven't fully tapped in to all of the opportunity that exists. Your "virtual dealership" encompasses much more, and your customers play a big role in making it work for you.
Tending to all of your "virtual" real estate via social media and review sites
When people like something, they also like to share it and talk about it—and the same goes when customers come across something they don't like so much. Social media and review sites give customers the ability to make their voices heard, and you can bet that your prospective customers are paying attention. 71% of consumers are more likely to make a purchase based on social media referrals (Ewing).
This statistic is just one example of the importance of attracting positive reviews while working to negate the circumstances that can lead to negative reviews. There are several ways to accomplish this goal, as you'll see below.
You shouldn't take this to mean that consumers are the only ones with influence in social media, though. 78% of respondents in a recent survey said that social media posts by companies impact their purchases (Olenski). Conclusion? You should be posting things to SM that reflect the personality of your dealership and using it as a platform to engage with your customers. Coca-Cola, Moe's/Taco Bell, Target and Starbucks all use social media to do much more than just sell their products; through their interaction w/ customers on social media they become a valued and trusted part of consumer's every day. Sure, these are big brands, but dealerships have strong connections to their communities through schools, charitable organizations and community events and this type of localized content goes a long way to connecting with people with shared interests and affiliations.
What you do online matters. Customers are attracted to engaging, valuable content, and your dealership's social media channels are the perfect way to share the content your customers will love—and that will drive them to your dealership to learn more.
The glass is half full--Identifying areas of opportunity
In a dealership, reviewing data--reports, spreadsheets, financials--is a part of everyday life and an essential way to identify existing areas of opportunity for increasing sales, revenue and efficiency. At 3 Birds, we have created a Digital Assessment that is an incredible tool for identifying these areas and leveraging them to best capitalize on your dealership's "blue sky"--areas of opportunity that are ready and waiting to be tapped into!
Our Digital Assessment tracks four critical areas of your online presence:
· Google SERP (Search Engine Results Page)
· Website Optimization
· Reputation Management and Consumer Review Sites
· Social Media
In each field, you'll learn where your greatest opportunity lies and how to maximize your sales efficiency through clear, easy steps.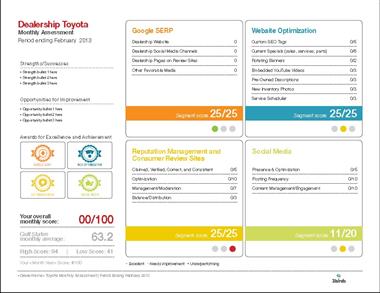 Google SERP
Your dealership's search rankings have a clear impact on your conversion rates for customers searching in your area. A recent study found that 53% of the clicks for organic listings go to the first result, dwindling to just 15% for the second and 9% for the third (Miller). In addition, the keyword search that refers the most traffic to dealer websites is the dealership name. Owning your page one search results on dealership name is an important way to make sure consumers who are searching for you find only you and to keep competitors from stealing your click. Our assessment tracks your dealership's appearance in the top 10 search results for your dealership name, and suggests ways to push out competitive or harmful results while broadening your exposure.
Website Optimization
Your main website is the foundation of your virtual dealership. It's where you have the best chance of converting a customer. Is your website well-optimized to convert traffic into leads? The assessment evaluates factors that help your website rank higher in search results and impact your conversion rates.
Reputation Management and Consumer Review Sites
As mentioned above, tracking your dealership's presence on popular consumer review sites is crucial. To get the most out of your review site presence, though, you should be optimizing your review page listings and engaging with customer reviews. Our assessment looks for claimed listings, correct information, and review management and moderation in the last 90 days.
Social Media
The optimal social media strategy varies for each dealership. However, every dealership can benefit from actively engaging on the major social media networks, including Facebook, Twitter, YouTube, Foursquare, and Google+ Business. The assessment tracks your dealership's engagement on these critical channels and reveals opportunities to get more out of your social media strategy.
Using the assessment to expand your virtual presence
You know what you need to be doing to maximize "virtual blue sky" and optimize your virtual dealership and, by extension, ultimately maximize sales and service opportunities. How do you get from where you are today to where you know you need to be? By taking an assessment of your current virtual presence and measuring progress. The assessment tracks more than 70 data points to provide a comprehensive view of your dealership's online presence. When performed on a regular monthly basis, the assessment adds even more value by showing real-time growth in each of the four areas and is an excellent tool for groups to use as a benchmarking tool.
Ready to learn more about the assessment and see if it is a fitting solution for your group? Contact us today to learn more about making the 3 Birds Marketing assessment part of your virtual dealership plan.
Sources
Ewing, Mike. (2012) "71% More Likely to Purchase Based on Social Media Referrals [Infographic]." HubSpot.
Miller, Miranda. (2012) "53% of Organic Search Clicks Go to First Link [Study]." Search Engine Watch.
Olenski, Steve. (2012) "Are Brands Wielding More Influence In Social Media Than We Thought?" Forbes