Generate demand, not just leads.
At first glance, increasing monthly revenue is the end result of a simple equation. More leads = more customers in-store = more cars sold = more revenue overall. Something like this, a model many of us are familiar with.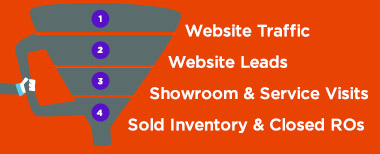 It's simple, then: get more people in the showroom on a regular basis and you'll sell more cars. While this is mathematically correct, it doesn't reflect the modern consumer's purchase decision journey or their shopping habits, which is anything but linear, as seen in the model below.

Before your dealership can drive traffic to your website or your showroom, there needs to be an increase in demand or a reason for potential customers to check out your dealership in the first place. Implementing systems that will consistently and organically generate demand for your dealership and, by extension, leads, can prevent your sales and service team from running in place month after month when it comes to building revenue long-term.
Consumers today take care of the "kicking the tires" part of the search process online, not by visiting your dealership. This online search process is a huge area of opportunity for the dealership and a chance to build a relationship with the consumer that will eventually build revenue over time. Consumers today try and find out everything they need to know consult as many as 18.2 online information sources before making a decision
(thinkauto with Google, 2011) and over half never visit the showroom until they're ready to buy. By showing up as part of their search process and being found online and in inboxes, coupled with solid in-house processes that make the most of leads that have already begun their decision process, ups your dealership's chances of being in the running when it comes time to buy.

A lack of time and resources makes it tempting to ignore the issue of demand generation and hope for the best by focusing on internal processes and sales tactics or turn to stop-gap measures such as email "blasts" to achieve the end-goal of revenue we saw in the formula above. There is another--and more sustainable—way. 3 Birds offers a variety of demand generation strategies to provide valuable content, generate awareness and engage customers throughout their sales and service lifecycle, including:

·Digital marketing packs offer an integrated, multi-channel approach to monthly messaging and include data-targeted followups for increased engagement.
·eCommerce lead nurturing templates bridging the gaps between a customer's last sale or service appointment and their next.

Find more
on our site
and
contact us
to learn more about demand generation marketing at 3 Birds and start a conversation that could change the way you think about marketing your dealership to today's consumer.