The jam-packed NADA Convention & Expo 2014 (Jan. 24-27) is almost upon us. While you're in New Orleans, don't miss out on your chance to experience a truly one-of-a-kind city. Here's a look at some of our favorite historic sites and hidden treasures that the 3 Birds team has discovered over the years.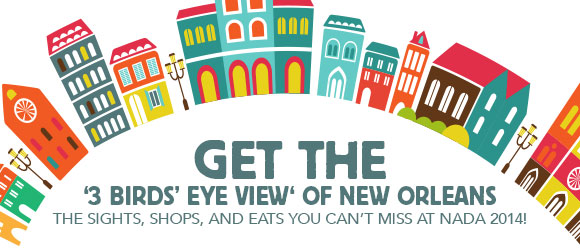 A taste of the Big Easy
Start your day with a Breakfast Special at Mother's Restaurant(served all day long if you sleep in). They also offer some of the best po' boys you'll find in the city—no surprise since they've been serving since 1938.

When it comes to lunch spots, your choices are extensive, so plan ahead. Galatoire's Restaurant is a favorite with New Orleans regulars and offers an extensive array of local cuisine. The service is excellent—we always ask for Richard Smith when we stop in.

For succulent oysters or a heaping helping of seafood gumbo, be sure to visit Mike Anderson's Seafood. Across the street, you'll find Jean Lafitte's Old Absinthe House—a nearly 200-year-old bar that's great for people-watching. The Praline Connection offers authentic Cajun Creole-style cooking at two locations—one just blocks from the convention center.

Don't have time to sit down? Pick up a famous burger at the Camellia Grill on Carrollton Avenue, or grab café au lait and beignets at Café Du Monde near the French Market. For the latter, you can also make a day of it and tour the historic district. Finish off your outing with a stop at Dickie Brennan's Steakhouse in the French Quarter.

The city's most memorable attractions
If you have time, the Audobon Aquarium of the Americas is worth the trip. The interactive exhibits include a thriving penguin colony and a Coral Garden.
For shopping in the city (or a look at history), you can't beat the businesses lining Decatur, Chartres, and Magazine Streets in the French Quarter.