How to attract the growing audience of mobile users to your dealership
Thinking about adding a mobile component to your marketing strategy can be daunting. However, the thought of facing the next few years without this key component is even more alarming. Consider these recent statistics:
· 55% of mobile users own smartphones, with 129.4 million people on smartphones as of January 2013 (Markgraf).
· The average adult spends 58 minutes daily on a mobile device (Fetto).
· 78 percent of iPhone and Android users polled check email on their smartphones, 73 percent browse websites, and 70 percent access Facebook (McGee).
· Over 80 percent of users polled will simply delete an email that is not optimized for mobile. 30 percent will unsubscribe (Leggatt).
· A recent survey of affluent US internet users aged 21 and over found that more than eight in 10 own a smartphone and 56% own a tablet ("Affluent Shoppers").
A lack of attention to your site's mobile rendering capabilities may not simply be limiting your customers—it may be losing you business from consumers who are reading your dealership emails on a mobile device. What accounts for this trend?
The Appeal of Mobile Marketing in the Modern Age
It's easy to understand the appeal of a mobile presence in today's world. Consumers face distractions galore from the overwhelming amount of advertising messages they face every day. (Well-optimized) mobile content lends much-needed convenience to a hectic schedule and the freedom to make decisions in a matter of minutes—which is often how long they have while they're waiting in the doctor's office or on their lunch break.
Can a customer easily schedule a service appointment on your dealership website from their phone? What about finding more information about a specific model, or filling out a form for more details? If not, you can be sure that they will find these options and more on another site.
For more proof that mobile marketing is no longer something you can afford to ignore, consider a recent report from the Mobile Marketing Association (MMA), a non-profit trade association which was founded in 2000 and now claims over 700 member companies. The MMA found that mobile marketing contributed $139 billion to the U.S. economy in 2012, a number nearly triple the $48 billion reported in 2010.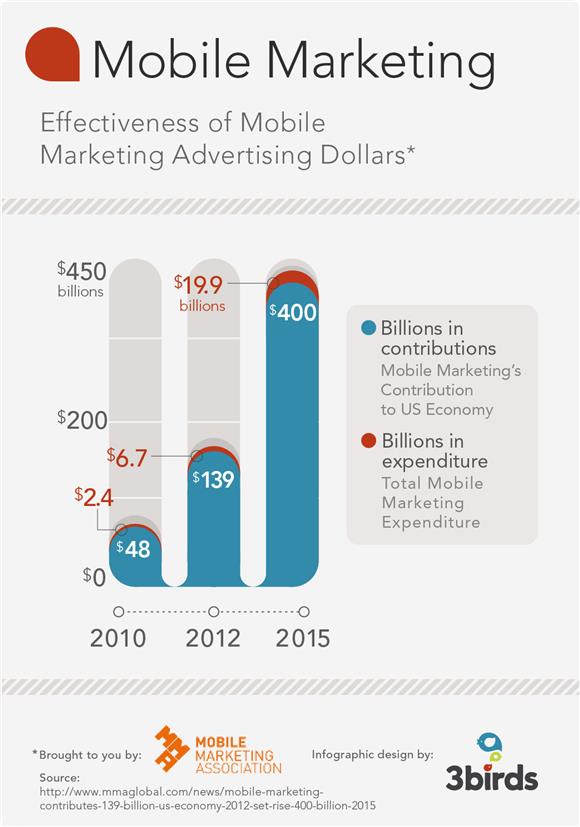 The evidence is clear—the time for a mobile solution is now. But what's the first step?
Making Mobile a Part of Your Online Presence
The good news is that while mobile marketing is becoming increasingly more profitable, it doesn't have to overshadow your other marketing investments. Your mobile strategy should be seamlessly integrated with your other social media marketing channels. There are a few easy ways to kick this off:
Mobile rendering for emails and engagement sites. If you're not offering a mobile rendering option for your email campaigns and engagement sites, you're dealing a significant blow to your conversion rate. As noted earlier, consumers are likely to bounce when presented with a non-intuitive landing page. The figure below illustrates how the 3 Birds Marketing platform transforms your engagement site into a page designed for mobile viewing, complete with easy-to-use call-to-action buttons at the top of the page.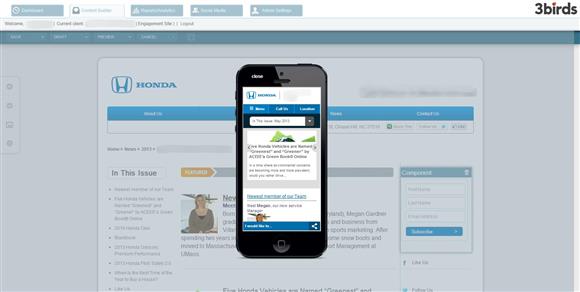 Make "sharing" matter. Sharing content via social media is a main attraction of mobile devices. However, providing incentives for customers to share your dealership's content shouldn't be your only priority. By sharing content that customers will find interesting from other sites on your own networks, you can build authority and get noticed by a wider audience.
Embrace the art of the video. 25% of all YouTube views worldwide come from mobile devices, with mobile traffic to the site tripling in 2011 ("Statistics"). However, few videos are watched in their entirety. Create videos for your dealership that draw viewers in quickly and give them a reason to visit to visit your dealership or website to learn more.
Customers know that they have options when it comes to where they buy and service their vehicles. Well-optimized mobile marketing helps build the relationship between your dealership and your customers by making it easy to find what they're looking for in minutes.
Are you ready for a system that makes mobile simple? 3 Birds provides a comprehensive digital marketing platform that seamlessly integrates with your current marketing strategy and allows for infinite mobile possibilities. Contact us at (877) 285-1094 or by clicking here.
Sources:
(2013). "Affluent Shoppers Make Mobile an Essential Stop in the Purchase Funnel". eMarketer.
Fetto, John. (2013). "Americans spend 58 minutes a day on their smartphones". Experian Marketing Services.
Leggatt, Helen. (2013). "BlueHornet: 80% delete emails not optimized for mobile". Biz Report.
Markgraf, Bert. (2013). "U.S. Smartphone Users Now Number 129 Million". Mad Mobile News.
McGee, Matt. (2013). "Email Is Top Activity On Smartphones, Ahead Of Web Browsing & Facebook [Study]". Marketing Land.
Mobile Marketing Association. (2013). "Mobile Marketing Contributes $139 Billion to U.S. Economy in 2012; Set to Rise to $400 Billion by 2015". Mobile Marketing Association.
"Statistics". YouTube.