Revolutionary product draws industry interest at Digital Dealer 15, Driving Sales 2013, and J.D. Power Automotive Roundtable Conferences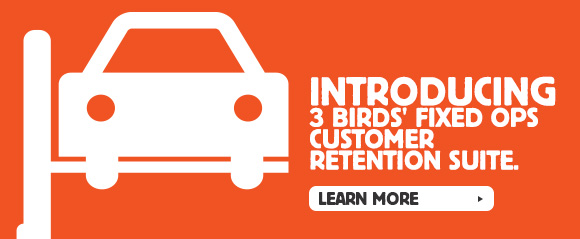 3 Birds demonstrated its cutting-edge Fixed-Ops Customer Retention Suite integrated digital marketing service solution at Digital Dealer 15, Driving Sales 2013, and the J.D. Power Automotive Roundtable Conference, drawing an overwhelmingly positive reception amid discussion of the challenges facing dealership service departments today.


The Fixed-Ops Retention Suite's robust capabilities enable automotive dealerships to increase operational efficiency, drive customer retention, and improve the customer experience in their service department. One of the suite's primary features is the new, fully-managed LIFT service website, which offers dedicated service content and convenient online scheduling from any page.
Using the LIFT site as a foundation, the Fixed-Ops Retention Suite offers additional customer engagement opportunities with robust lifecycle messaging, digital MPI capabilities, and a customizable loyalty program.

Features include:
•Triggered messaging to transition customers smoothly from new sale to service department
•OEM maintenance marker reminders
•Digital MPI tool and MPI code messaging
•Appointment data written directly to DMS
•Targeted recapture campaigns aimed at decreasing service defection rates


"Service and fixed-ops revenue generation and digital marketing effectiveness tactics were hot topics during the speaking sessions at the conferences this year but have long been an area of focus for 3 Birds," says Kristen Judd, Co-Founder and CEO. "Sales customers get the red-carpet treatment on a regular basis: not so in the service department. This new product showcases the forward-thinking features and design that has made 3 Birds a force to reckon with in the automotive marketing space: cutting-edge technology, robust analytics tools, and conversion-minded, high-quality content. We're excited to work with dealers to capitalize on the immense opportunity available through the service department by offering an all-new way to increase customer loyalty and retention rates in this area."


For more information about the Fixed-Ops Retention Suite, LIFT websites, or 3 Birds' other digital marketing software and services, visit
www.3birdsmarketing.com
or contact us at 877-285-1094.