Taking a look at top-clicked articles, open rates and more from 2013 newsletter sends.
We can't say it enough: we love digging into data. From open rates to star ratings, digital marketing is a numbers game—and those numbers can provide great insights into what's working well and what needs a closer look.

Data isn't just a philosophy here, it's part of our commitment to our clients' success. The powerful reporting tools in The Wire makes that part of the job easy by giving us the capability to measure overall trends like delivery rates and click-through rates down to more granular data like top-clicked items across multiple sends. Our Digital Strategists sift through the wealth of data on a regular basis to create actionable follow-up items for themselves and their clients.

One of the most valuable tools our clients receive each month is a send report that tracks all of the click data from a newsletter or digital campaign. Recently, we took a look at our combined send data for all of the newsletters we sent out over the entire year of 2013.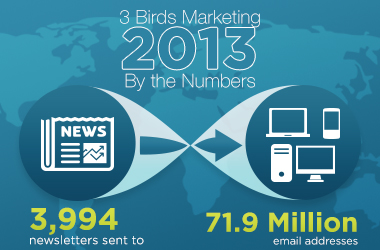 Top 5 Most-Clicked Articles
Ask a Technician: Should I Warm Up My Car Before Driving in Winter Weather? (Spoiler alert: the consensus is to skip it.)
Tips for Getting Better Gas Mileage
Car Myths Debunked: Is Premium Gas the Best Option for My Car?
Ask a Technician: How Often Should I Get My Oil Changed?
Understanding Winter Tire Pressure
These numbers confirm the thinking that underlies our Fixed Operations Marketing and Retention platform: your customers want to learn more about their vehicles, especially from the resources they trust the most, the place where they bought their vehicle and/or service it on a regular basis! By providing consumers with the type of information they are seeking, your dealership becomes a trusted resource and the natural choice when it's time to buy or service their next vehicle.
Top 5 Clicked Coupons by Keyword
"Oil Change" Coupon (25% of total coupon clicks)
"Tire Special" (9.3% of total coupon clicks)
"Alignment" Coupons (4.4% of total coupon clicks)
"Service Special" Coupons (4.2% of total coupon clicks)
"Maintenance" (2.8% of total coupon clicks)
Deliverability


98.4% deliverability rate.
As our
CTO discussed
in the newsletter last month, this number is one we keep a close eye as there are a multitude of factors that can affect this number and we want ours to be as high as possible.
Click through
to read more about best practices for boosting deliverability.

Open Rate


13.7% Open Rate (9.9 million email opens from nearly 4,000 newsletter sends!)
This number indicates a solid level of engagement and responsiveness on the part of our target audience: our customers' customers.
Contact us
to learn more about the facts, figures, and data that keep us and our clients going and
visit us
at Booth 1459 at NADA 2014 to learn more about our integrated digital marketing platform and services.